Today is March 25th, 2020. This is an update from yesterday with today's Covid-19 statistics from Johns Hopkins University and other sources. The number of cases and the number of deaths in the US are still increasing faster than the predictions I made on March 22nd (If We Do Nothing). Although we are doing things in the US, we do not seem to be doing them fast enough, as the chart below illustrates.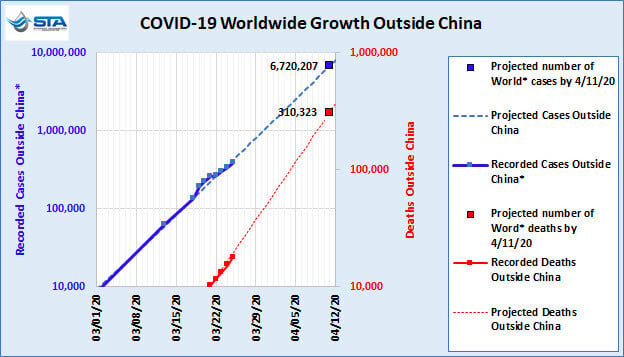 The US recorded data is indicating higher numbers of deaths (>10,000) and cases in the US by Easter. The World recorded data is on track for 310,000 deaths by Easter.
Most countries, like the US, are still on the exponential part of the pandemic growth curve. Counter measure in China and Korea have got them past the peak of this curve, as shown below (data from JHU).
We can all play our part and get our countries past the peak in the curve. Stay at home if your job is not critical to your country's recovery. Thank God for the brave men and women who must go out to keep their nations safe and supplied.