Marine Renewable Energy
STA clients have been increasingly interested in marine renewable energy (including offshore fixed and floating wind farms) in-stream hydrokinetic devices and wave energy converters.  View the SUT Offshore Renewables Presentation by Bil Stewart in September, 2018.
ASCE COPRI Marine Renewable Energy Committee
The ASCE COPRI Marine Renewable Energy Committee was formed in 2009 and Bil Stewart was appointed Chairman.  The MRE Committee has been producing a new Manual of Practice for Civil Engineer involved with MRE projects. 
MRE Guide Table of Contents
INTRODUCTION 7
1.1 INTENT AND ORGANIZATION OF THE GUIDE 7
1.2 IMPORTANCE OF INSPECTIONS 8
1.3 APPLICABILITY 8
1.4 LIMITATIONS OF RESPONSIBILITY 8
1.5 CODES & STANDARDS COMPLIANCE 9
1.6 DEVICE TYPES & TERMINOLOGY 14
GEOTECHNICAL ENGINEERING 25
2.1 INTRODUCTION 25
2.2 APPLICABLE DESIGN CODES AND RULES 31
2.3 FOUNDATION CAPACITY 42
2.4 FOUNDATION INSTALLATION 66
2.5 SETTLEMENT, DISPLACEMENT AND TILT (SLS) 79
2.6 FOUNDATION STIFFNESS AND SOIL REACTIONS 82
2.7 EARTHQUAKE DESIGN 85
2.8 INSTRUMENTATION AND MONITORING 85
2.9 REFERENCES 86
MOORINGS 89
3.1 OBJECTIVE/SCOPE 89
3.2 PURPOSE 89
3.3 PRELIMINARY DESIGN CONSIDERATIONS 89
3.4 SYSTEM LAYOUT 90
3.5 SYSTEM COMPONENTS 91
3.6 STANDARDS AND DEVELOPMENT 94
3.7 RESPONSE CHARACTERISTICS 94
3.8 ENVIRONMENTAL EFFECTS 95
3.9 DESIGN RETURN PERIOD 95
3.10 DESIGN LOAD CONDITIONS 97
3.11 MOORING SYSTEM STRENGTH DESIGN 98
3.12 CORROSION AND WEAR ALLOWANCE 100
3.13 MARINE GROWTH 101
3.14 FATIGUE DESIGN 102
3.15 CLEARANCE 103
3.16 ANALYSIS CONSIDERATIONS 103
3.17 OPERATIONAL CONSIDERATIONS: INSPECTION, MONITORING, TESTING AND MAINTENANCE 107
3.18 SHIP IMPACTS AND COLLISIONS 108
3.19 MOORING SYSTEM FAILURES 108
3.20 COMPARISON OF MOORING AND MRE CODES 108
3.21 CONCLUSIONS 108
3.22 REFERENCES 109
RISK & RELIABILITY 112
4.1 RISK GUIDELINES 112
4.2 HISTORICAL OVERVIEW 113
4.3 RISK AND RELIABILITY CONCEPTS 120
4.4 BASICS OF OFFSHORE STRUCTURES RELIABILITY 122
OTHER CONSIDERATIONS 123
5.1 OTHER ENVIRONMENTAL LOADING 123
5.2 STRUCTURES 123
5.3 POWER CABLES 124
MRE DEVICE TYPES 125
6.1 GENERAL 125
6.2 IN-STREAM HYDROKINETICTIDAL DEVICES 125
6.3 TIDAL, OCEAN AND RIVER CURRENT DEVICES 126
6.4 WAVE ENERGY CONVERTERS (WECS) 131
6.5 OCEAN THERMAL ENERGY CONVERSION / SEAWATER AIR CONDITIONING (OTEC / SWAC) SYSTEMS 137
REGULATORY AGENCIES AND ISSUES 140
7.1 GENERAL INFORMATION AND JURISDICTIONS 140
7.2 THE FEDERAL ENERGY REGULATORY COMMISSION (FERC) 140
7.3 NATIONAL OCEANIC AND ATMOSPHERIC ADMIRATION (NOAA) 141
7.4 DEPARTMENT OF INTERIOR (DOI) 142
7.5 U.S. ARMY CORPS OF ENGINEERS (USACE) 143
7.6 UNITED STATES COAST GUARD'S (USCG) ROLE IN RENEWABLE ENERGY INSTALLATIONS (REI) 146
7.7 OTHER FEDERAL AGENCIES 147
7.8 STATE AGENCIES RESPONSIBLE FOR CZMA AND CWA PROVISIONS 148
ADMINISTRATIVE CONSIDERATIONS 149
8.1 AGREEMENTS 149
8.2 INSURANCE 149
8.3 CERTIFICATIONS 149
8.4 REGISTRATION 149
8.5 PATENTS 149
8.6 CLASSIFICATIONS 150
8.7 COST ESTIMATES 150
APPENDIX 158
INDEX 162
OrcaFlex Simulation of MRE Systems
STA has helped many clients optimize their marine renewable energy systems and quantify their power generating capabilities.  The work involves clever hydrodyamic modelling of the mechanism and the mooring systems using OrcaFlex and other software systems.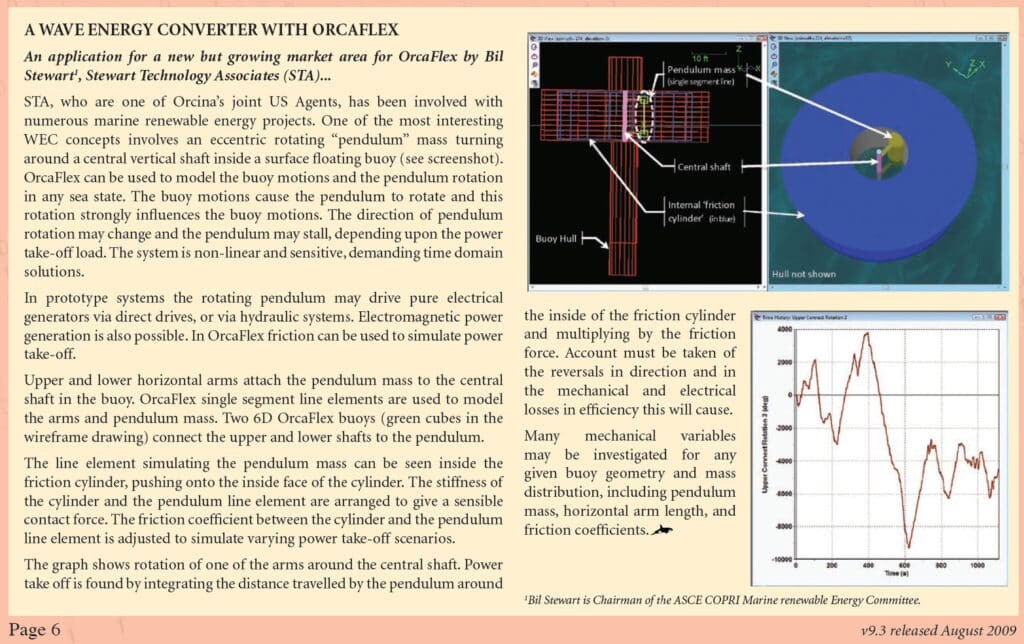 Floating Wave & Wind Farms are Coming
The worldwide energy generation and offshore wind farms production focus over the past twenty years has slowly changed to renewable technologies such as wave power systems. These are marine renewable energy systems that harness the power of the ocean to generate electricity. Energy production/generation companies in European coastal countries have been exploiting the power of the ocean to generate usable electricity for more than a decade. The time has come for American ingenuity to be put to use to further develop this technology and Stewart Technology Associates is at the forefront of American development of this technology.
Harnessing the Ocean through Wave Power Systems
If you've spent any time on or near the sea, you know what sort of power the ocean is capable of. The surface of the ocean is constantly in motion, in and out and up and down. Harnessing the power of the ocean for the benefit of mankind through the clean generation of electrical power makes use of this constant wave motion. Unlike wind power and solar power, there are no times during the day or night when the system is unable to produce electrical energy, making these systems completely efficient. Calling these energy production systems renewable is similar to saying that the sun is bright, or the universe is big. As long as there is an ocean, usable electrical power can be generated cleanly.
Wave Power Systems Provide Clean, Reliable Energy and More
Every other form of energy production has some sort of negative side-effect. Solar power requires large solar farms that take up huge amounts of space, and are occasionally unsightly. Using the power of the wind requires the erection of large towers and turbines, which many find unsightly and don't want in their areas. And we all know the effects of using oil, coal, and gas for producing electrical power. Harmful chemicals are released into our atmosphere, and the discussion about the amount of harm these chemicals pose to us will continue into the foreseeable future.
Wave power systems, on the other hand, have virtually no negative aspects. No harmful, toxic chemicals are released into the atmosphere or the ocean. No smoke is produced. The only negative thing that we know of about these systems is that they do have a measurable impact on the ecosystem down-water from them, but these impacts are manageable and negligible. When the proper research is applied prior to installation, wave power systems are among the most environmentally friendly means of producing power, and they're probably the most aesthetically neutral means of producing power available.
Researchers are just beginning to scratch the surface of the feasible uses of these power generation systems. A theme park could place a number of small buoys in a wave pool and reclaim some of the energy used to create the waves, thus reducing costs.
At Stewart Technology Associates we're at the forefront of American research and development into the applications of this technology. If you've got an engineering project that you think can benefit from using the power of the ocean to provide electrical power, give us a call today and let us help you determine the feasibility of harnessing the power of the ocean.