Pipe Lay Analysis and Design
Venezuela 42″ Submarine Pipelines to PLEM at CALM Buoy
In 2015 STA provided pipeline design review and installation analysis to Mecor, Venezuela for new 42″ pipelines from shore to a new SPM terminal.  The pipelines were to be laid a distance of 8.5 km from the shore to a PLEM in 30-meters water depth.
We examined on-bottom stability of the pipelines using our program STA BOTSTAB.
The scope of work for the pipeline installation analysis was:
Preliminary wall thickness verification
Global finite element (FE) S-lay dynamic analysis for minimum and maximum water depths of 6 m and 30 m
Perform global abandonment & recovery (A&R) analysis for water depths of 6 m and 30 m
Shore pull-in analysis
Local finite element (FE) Analysis
Installation strategies to help mitigate risk of pipeline buckling
As the pipeline D/t ratio of 67.2 was greater than 45, by Oil & Gas Industry standards, the project pipeline is rated to be very buckle sensitive. Therefore local analysis was conducted to determine the pipeline capacity and susceptibility to buckling. The results are summarized below:

Based on DNV-OS-F101 propagation buckling criteria, the pipeline is susceptible to propagation buckling in water depths greater than 28.5m.
As no buckle arrestors are present on the pipeline, spare pipeline philosophy review is recommended to assess project risk.
During installation a total length of 1.1 km (KP 7.4 to KP 8.5) is susceptible to propagation buckling.
Recommend to strictly adhere to installation weather windows to ensure safe pipeline installation. Recommend to actively monitor environment during pipeline installation.
Based on local analysis conducted, the pipeline is not susceptible to elastic buckling during installation.
The pipeline capacity at the field joint weld is dependent on the out of roundness.
The out of roundness (hi-low) should be less than or equal to 8 mm at the field joint weld. This can be achieved by simple pipe end rotation by experienced welders during welding on the barge.
The pipeline installation response is driven by the pipe at concrete interface.
The DNV-OS-F101 bending capacity is reduced due to high D/t of 67.2 and this reduction is considered for analysis in this report.

The pipeline moment capacities and concrete stress/strain concentration factors are determined taking into account field joint effects. These capacities and factors are used for global DNV-OS-F101 combined loading criteria and strain limit criteria respectively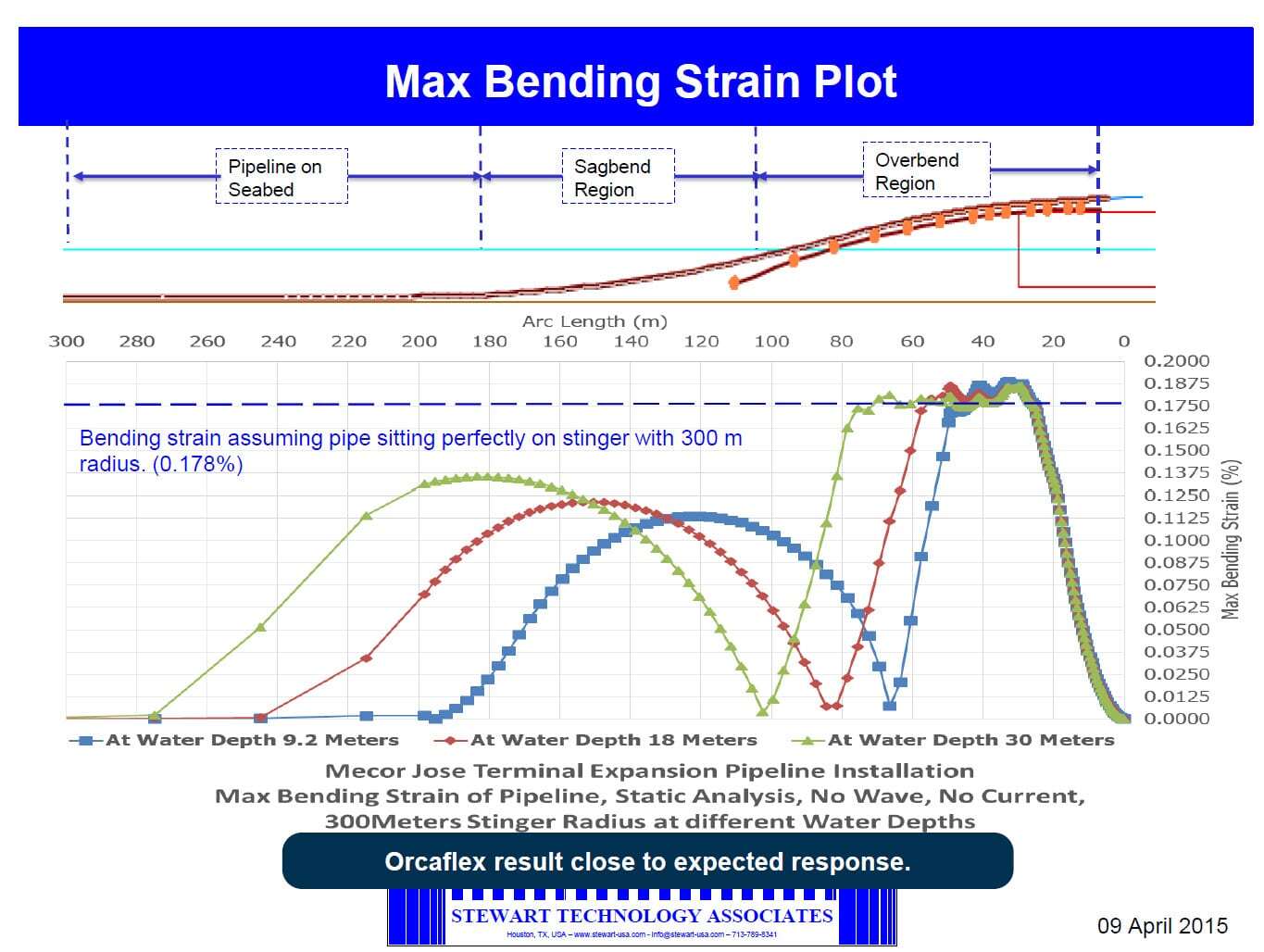 At Stewart Technology Associates, we offer some of the finest and most experienced staff available for those companies and organizations that require marine engineering consultancy. STA has earned one of the best reputations around the world for offering consultant services on a wide range of marine issues including: pipe lay analysis, expert witness marine, cable dynamics and much more.
Does Your Company or Organization Require a Thorough Pipe Lay Analysis
If your company requires an experienced consultancy firm to deal with a pipe lay analysis or other marine issue, call on Stewart Technology Associates. Throughout the years, we have worked hard to overcome some of the toughest obstacles around to deliver real world results. No matter what the issue is, we have the experience, knowledge and resources to assist you with the toughest marine engineering problems. This is why those companies and organizations that require pipe lay analysis, come to STA.
We Utilize Cutting Edge Technologies
At Stewart Technology Associates, we are always on the look out for innovative and practical ways to offer our clients the very best consultancy services possible. This is why we always utilize high quality and cutting edge tools. With the right tools for the job, we can usually cut costs and be more efficient in our analysis. It is also one of the reasons that we use Orcina's OrcaFlex for pipe lay analysis issues. Since 1986, OrcaFlex has been a mainstay with our consultancy firm. And today, it is used by more than 170 organizations worldwide for design and analysis work of marine flexible systems. For comprehensive and accurate results, we choose Orcina's OrcaFlex as one of our essential tools.
Experience that Matters
For those companies and organizations that are experiencing a pipe lay analysis issue, it's important to trust a consultancy service that will get the job done. This is why so many organizations have trusted STA since our inception. Whether your pipe lay analysis issue is foreign or domestic, you can count on STA to assist you and deliver the answers to help you overcome the toughest obstacles.
Contact Us Today for More Information
If you are experiencing a pipe lay analysis issue or any other type of marine engineering issue, contact us today either direct by phone or by email. We are here to help.