Published by Stewart Technology Associates on May 20, 2016
Maleo Producer, a mat-supported Jack-Up rig converted to a gas production platform (MOPU) owned by Global Production Systems, with structural design and foundation dynamic analysis by Stewart Technology Associates. The platform is shown during a dry tow to the site in Indonesia on board the heavy lift vessel Black Marlin.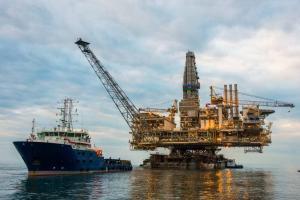 There are many challenges in the off-shore oil and gas industry, from operating in an unforgiving marine environment safely, to offloading oil and gas efficiently and designing drilling rigs, risers, moorings and other equipment that can withstand the punishing environmental forces at play. No matter how well-rounded and diverse your team is, eventually, you will run into an engineering problem or situation beyond your knowledge and expertise, or something that requires a different discipline or skill set.
While expanding your team is one option, finding someone with the necessary skills can be difficult, time-consuming, and potentially costly, and it may not be worth the effort if you need only temporary or intermittent assistance. In these situations, the most convenient, cost-effective option is to use outside engineer consultants who can work closely with your team to achieve the desired results, while bringing a unique set of skills and fresh viewpoints to the task at hand.
Here are a few of the ways that engineer consultants, like the team at Stewart Technology Associates, can help your off-shore exploration or production operation:
#1 Structural Design and Analysis
Designing equipment and structures that can stand up to the rigors of a marine environment, including forces such as rain, snow, wind, wave action, tidal forces, deep sea pressures, corrosion and chemical reactions, can be a difficult process. It can include thousands of hours of design, simulation, prototyping, testing and analysis work. Even with a highly-qualified team and large budget, it can be a grueling process fraught with pitfalls and mistakes. By working with experienced engineer consultants, you can eliminate guess work and get the project finished and into production in a timely manner. Some of the structural projects that engineer consultants can help you with include:
Fixed platforms
Jack-ups
Liftboats
Semi-submersible platforms
Drillships
Barges
Bouys
Moorings
Single-point moorings
Pipelines
Risers
Anchors
Foundations
Engineer consultants can help throughout the design process; from the initial planning of the structure, to creating the final design and selecting the appropriate materials and construction methods. Using software such as ORCAFLEX, ASAS or ABAQUS can employ finite element analysis and model how your structure will behave in real-world conditions by simulating the effects of vibration, heat, fluid movements and other variables. This will determine where likely failure points are, allowing design to be improved before production. The software can also be used to improve existing designs and model previous failures to avoid future incidents.
By working with engineering consultants during the design process, you can avoid common problems that lead to structural failure, safety problems and increased maintenance, and you can develop a reliable, long-lasting structure that will serve your needs more thoroughly.
#2 Hydrodynamic Analysis
Anything in a marine environment is bombarded by waves, tidal forces, inclement weather, high pressures, corrosion and electrochemical processes. These forces cause wear and stress on marine structures and equipment, leading to increased maintenance requirements, higher operational costs and structural failures or safety issues. Engineer consultants use hydrodynamic analysis tools, like OrcaFlex, to model the hydrodynamic forces at work on your structure, allowing you to improve the design, increasing durability and reducing maintenance costs. Hydrodynamic analysis improves the performance of equipment and marine structures, including:
Drilling rigs
Production platforms
Mooring systems
Anchors
Anchor points
Mooring lines
Anchoring hardware
Underwater pipelines
Floating pipelines
Risers
Tankers
Engineer consultants can help your marine equipment and structures perform as expected, and keep workers safe.
#3 Fluid Dynamics Analysis
Systems designed to store and transport fluids like oil must be designed to avoid leaks, eliminate bottlenecks that reduce transfer efficiency and move fuel safely. Engineer consultants use software like OrcaFlex to model the behavior of liquids in equipment like risers, pipelines, pumps, swivels and tanker ships, leading to improved designs.
For pipelines, risers, and swivels, the software determines where there are impediments to flow, allowing you to create a design with higher flow rates. It also shows the forces at work on the seals, allowing you to design seals that are more resistant to leaks and other failures.
An analysis of fluid dynamics can also be used on pumps to increase flow rates and to make them operate more efficiently, reducing energy usage and costs. In tankers, it can help design holds that minimize the movement of oil and prevent sloshing, leading to greater ship stability during transit, increased safety and reduced fuel costs.
#4 Other Areas
In addition to these basics, there are other ways engineer consultants can improve your oil and gas operations:
Risk Assessment: Engineer consultants can examine your overall operations and suggest improvements to increase safety, efficiency and financial health. They can also report to insurance agencies to evaluate your operation and so that a project can move forward.
Emergency Preparedness: Engineer consultants can design safety systems, equipment and strategies that keep employees protected and minimize liability during emergency events, like inclement weather or fire.
Marine Simulation and Training: Engineering consultants can design training programs, software and equipment that helps employees learn to use marine equipment safely, effectively and efficiently, including systems like jack-ups or liftboats.
Forensic Analysis: Engineer consultants use tools like hydrodynamic and finite element analysis to determine the cause of an accident, and how to prevent it in the future.
Oil Cleanup: Engineer consultants can develop effective oil cleanup procedures and equipment that minimize costs and environmental damage in the event of a leak or a spill.
Engineer consultants offer a wide range of valuable knowledge and skills that help your oil and gas operation design better structures and equipment, improve operations, enhance safety and increase profits.
Sources: